Moms In Business – 15 Success Stories with Soul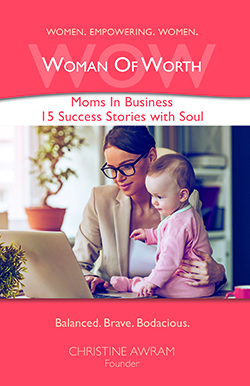 Motherhood is messy, brilliant, overwhelming … and full of so much love it can stop your heart in its tracks. When you add in a career or business, the juggling act stretches you to new heights. Sometimes it brings you to your knees, but you keep your heart open and you keep going – because you believe in you, and your tribe has your back.
These authors will share the highs and lows of their journeys, and the gems of how they made it all work to survive and thrive.Their stories will make you laugh and cry, and they will inspire you to shine.You are a WOW Woman Of Worth, and you are absolutely glorious.
"It takes a village to make life work. These incredibly inspiring, smart and hard-working 'mompreneurs' have provided the most heart-warming real-life stories. This book will be a game-changer for your life and business."
Karlene Karst – Mom of 3, Founder of Sea-licious
"Mom entrepreneurs o??en fee/ alone,juggling a dozen balls with one arm while carrying a toddler in the other. Bravo to the women in this book who share their inspiring stories so that others can learn from them."
Elaine Tan Comeau – Mom of 3, Canada's 2014 Mompreneur® of the Year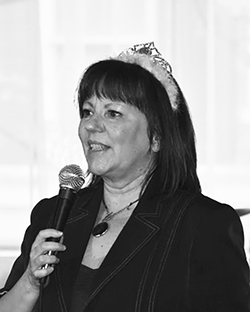 Christine's Biography
"Chocolate is a vegetable, because it comes from a bean." This is just one of many outrageous statements you'll hear from Christine Awram (while wearing a pink tiara) as she encourages women to question any of their beliefs that limit an empowered, joyful, and successful life.
She's the founder of Woman Of Worth WOW Worldwide and is a dynamic speaker, author, visionary, and philanthropist. Christine radiates vitality with her indomitable spirit and humour. Yet her earlier years began as a teenage runaway who experienced addiction, illness and depression. She inspires others by sharing the specific strategies she used to move from futility to fulfillment, and how she transformed challenges into passion and purpose.
Christine's commitment to the empowered leadership of women resulted in her being honoured with the Outstanding Leadership Award by the Global Women's Summit. She has personally inspired over 10,000 women through her WOW events, has published four #1 bestselling books in the last two years, and believes she is just getting warmed up.
www.aWomanOfWorth.com
www.theWOWevent.com
Facebook: aWomanOfWorthWOW
LinkedIn: wowchristineawram
Twitter: @womanofworthwow
5.5 x 8.5 – 222 Pages – $21.95
See Christine's other books in categories Business, Inspirational
To Order: Please email "Contact"